---
A Professional Design Firm Providing Responsive Architectural Solutions to Your Design Problems
Experienced Professionals
With over twenty-five years of experience in architectural and roofing related services for public and private clients, LANDERA ASSOCIATES can respond to all project development needs. A skilled and dedicated design team offers our clients the resources, knowledge and expertise gained from extensive experience in the design of commercial, institutional and governmental projects.
Responsiveness
A commitment to responsiveness in all aspects of our professional services is the primary focus of our organization. From basic considerations such as immediate accessibility and prompt response from our staff, to providing design solutions addressing the specific needs and goals of each project.
Performance
Experienced design professionals in all aspects of architectural and roofing related services, a commitment to responsiveness to our clients and a desire to provide the best service possible, allows LANDERA ASSOCIATES to maintain a record of outstanding performance and satisfied clients.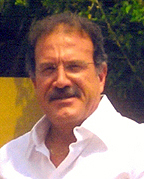 Osvaldo L. Landera, AIA,
Architect/President
Principal and Founder of
LANDERA ASSOCIATES, PA
Mr. Landera has over 25-years of experience in architectural design and management
and is actively involved in all aspects of the firmís professional services.